Cursus B - De cervicale en thoracale wervelkolom + E-learning NEW!
Cursus B - De cervicale en thoracale wervelkolom + E-learning NEW!
11.10.2023 - 14.10.2023
Zaventem
Een 4-daagse cursus voor de cervicale en thoracale wervelkolom met 4 uur e-learning voorbereiding.
Omschrijving:
De opzet is identiek aan die van de A cursus en bestaat uit lezingen, groepswerk, demonstraties van technieken en praktijk. Er worden patiënten onderzocht en behandeld met cervicale/thoracale klachten, met/ zonder uitstralende pijn. Zowel het concept van de Mechanische Diagnose en Therapie, als de indeling in de drie syndromen worden opnieuw besproken. Ook hier worden de toegepaste behandelplannen, met nadruk op de zelf-behandelings technieken, aangegeven. Tevens worden de cervicale hoofdpijn en trauma aan de cervicale wervelkolom ("whiplash") besproken.
De klinische effectiviteit en beperkingen van de McKenzie aanpak in relatie tot de cervicale en thoracale wervelkolom worden gedemonstreerd aan de hand van de behandeling van patiënten op opeenvolgende dagen.
Bekijk overzicht
Boek cursus nu
Details
Datum & Tijd
11-10-2023 tot 14-10-2023
Van 9u00 tot 17u00.
AXXON
Imperiastraat 16
Zaventem, B-1930
België
Plaatsen beschikbaar
24 Plaatsen
Extra Informatie
Voor meer informatie over de kosten selecteer de KOSTEN EN ACCREDITATIE pagina.
Profiel van de docent
David Vandeput
PT, MSc, Dipl. MDT, MT, OMI
Graduated in Physiotherapy and Rehabilitation (Aedes Paramedicorum Brussel, 1989), he completed his training in Manual Therapy in the Netherlands at SOMT (1995 IFOMT), a COP in MDT McKenzie Method at the University of OTAGO (2006 Dunedin, NZ) and numerous continuing courses in the field of manual therapy: David Butler, Bob Elvey, Mulligan, Sharmann and Graduated in Orthopaedic Medicine (2003 OMI) He is also trained in the field of chronic pain, motivational interviewing and cognitive and behavioral therapy. In 2017, he completed a Master in Science degree in advanced Physical Therapy research at Dundee University (UK).
Since 1989, he has worked as an independent musculoskeletal physiotherapist in his private clinic in Maasmechelen, Belgium. He has been an instructor since 2006 for the International McKenzie Institute (MII) in Benelux and France and since 2016 for the Scientific Association of Flemish Physiotherapists (WVVK).
Since 1994 he has been a scientific collaborator at the University of Leuven (KULeuven) and is involved in several research projects and guest speaker at the medical faculty for occupational physicians. In 2010 he became a member of the McKenzie Institute Benelux and France board. Nowadays, he is the president of the new McKenzie Institute Belgium. Also, since 2015 he has become a member of the redaction board of the Belgium Federal Association EBPractice.net and a member of the administration board of the Scientific Association of Flemish Physiotherapists (WVVK), where he is also becoming a trainer in the EBP approach for Physiotherapists and General Physicians.
Recently, he was involved in two major projects of implementing federal multidisciplinary guidelines in Belgium: KCE 295b on Low Back Pain and Radicular Pain and the other on osteoarthritis of the hip and knee. In addition, the KCE (Belgian Health Care Knowledge Centre) mandates him in a working group to update a mono-disciplinary guideline for low back pain at KNGF (national physiotherapist association in the Netherlands). He is one of the trial's participants in direct access to Physiotherapy for acute low back pain.
More details to find on LinkedIn and ResearchGate.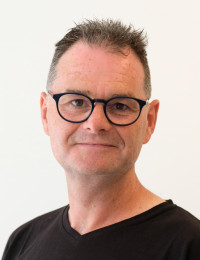 Locatie en adres
AXXON
Adres
AXXON
Imperiastraat 16
Zaventem, B-1930
België